Dr. A. Krishnamachari
Research Group
School of Computational & Integrative Sciences
Jawaharlal Nehru University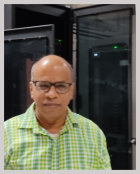 Dr. A. Krishnamachari
Assistant Professor
Research
Computational Genomics



Dr. AK Chari's special research interest is in unraveling information from genomic and its regulatory sequences using computational approaches. This includes motif discovery, pattern finding, prediction of promoter and transcription factor binding sequences across the three domains of life. His current focus is on predicting target genes for stress responses with special emphasis on cancer causing genes, identification of Replication origins in Eukaryotes, statistical and probablistic based analysis of DNA sequences and related data. He was also recipient of Fulbright fellowship in the year 2002.


Areas of Interest/Specialization:
Computational Biology
Computational Genomics
Computational Methods using machine learning, information theory, probablistic framework.